It's not every day I feel the need to rant on my blog... It's been a fair while to be honest. However, after seeing the lovely
Laura
's tweet this evening, I couldn't resist but vent a bit of anger! Anyone noticed this from the delightful Urban Outfitters..?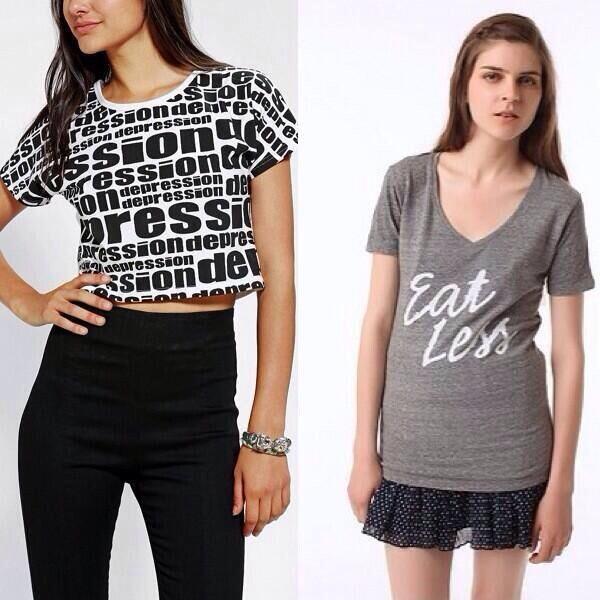 Since when was it okay for brands to publicise mental health in such a way? Why is it fashionable to wear DEPRESSION DEPRESSION DEPRESSION all over your chest?
I'm not going to go into my personal and private life, but those of you that know me will know that mental health in one way or another is a part of my life, and I won't rest until people are made aware of it and this god damn awful and stupid stigma goes away for good.
It's pathetic. It's pointless. It's people like the Urban Outfitters designers who throw those words around because it's "cool to be depressed." Excuse the language, but fuck off out of your dreamworld and maybe you'll finally realise that it shouldn't be joked about. Anorexia isn't a joke, and neither is depression.
Urban Outfitters, you actually disgust me. I've let your previous controversial clothing slide before, but this is one topic too far. Even if these are old (I knew of the Eat Less tee a while back), it's still around and still as stupid as when they were first released. The US is actually still
selling the Depression tee here
.
Seriously though... Who the hell said these t-shirts were okay to sell?!